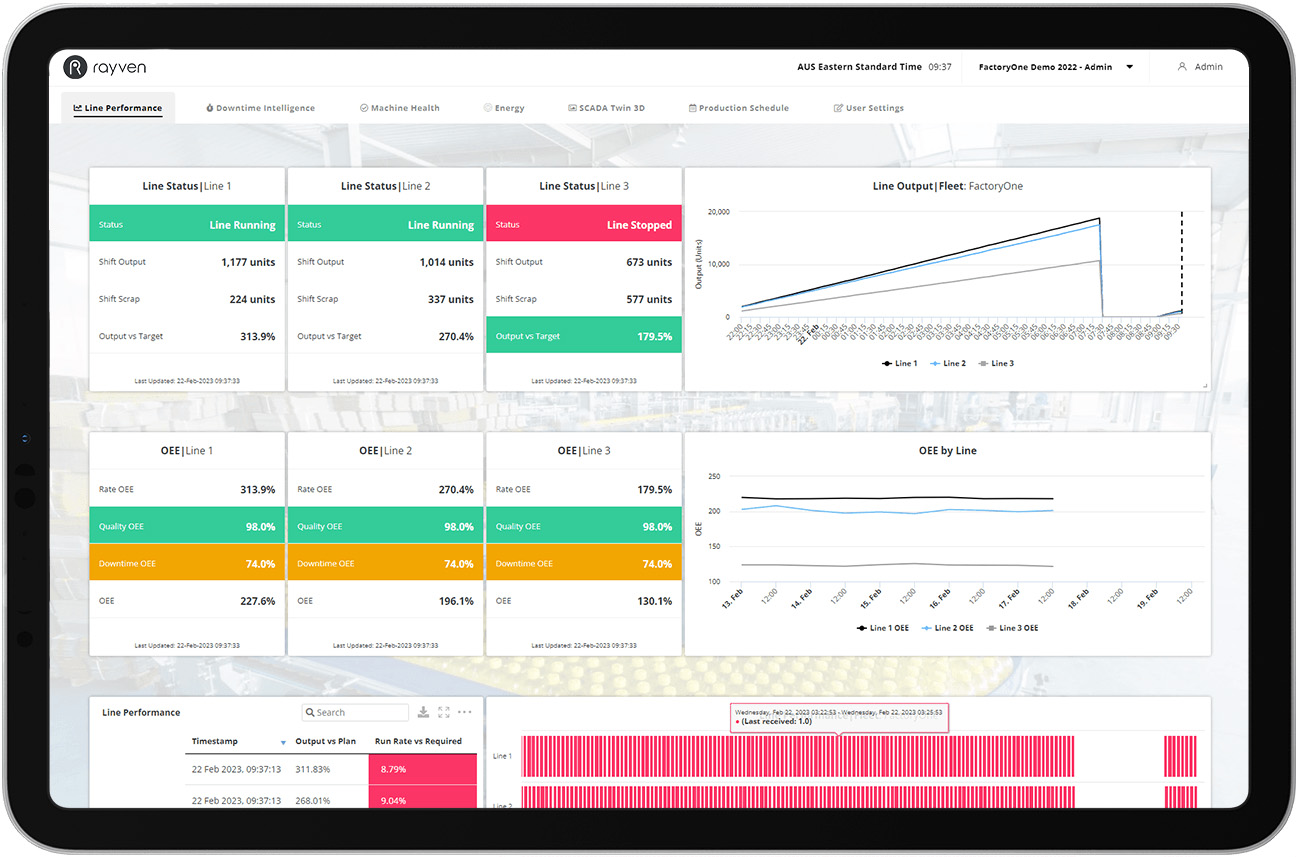 Get a free consultation
Start in weeks, affordably
Our ready-to-go OEE Dynamix solution will give you all the OEE monitoring and reporting abilities you need, plus much more, in weeks with no hidden-costs.
Find out more:
Real-time OEE: short and long-term benefits
Your operation is unique and made up of its own technologies, processes and people; so to calculate OEE accurately and in real-time, you need something that can cater for all of your variations and the factory floor.
We've designed and built a new real-time OEE solution with Bosch, OEE Dynamix. It's easy and affordable to deploy onto your existing production lines, simple to use, and can provide you with an accurate, real-time OEE measurements in weeks.

Reduced Downtime
Unplanned stoppages reduce your output and force overtime. Understand the causes of downtime and drive uptime improvements.

Increased Yields
Understand the causes of yield losses and rework so that you can drive the continuous improvement of your production lines.

Better Energy Efficiency
Make energy a direct cost by comparing real-time consumption with output. See how stoppages and changeovers drive energy waste.

Improved Quality

Quality defects can be isolated by location on a line, providing you with information vital to quality improvement actions.

Increased ROA
OEE helps you to drive uptime and throughput on every one of your production lines, helping you to maximise your ROA.

Better Staff Engagement
Place data in the hands of your staff and you'll improve engagement in continuous improvement and drive better outcomes.
Working with industry-leaders to create brilliant, purpose-built AI + IoT solutions for you:
























Rayven Sales
If you'd like the Rayven sales team to contact you to discuss your project, contact us.
Rayven Partners
If you'd like the Rayven team to contact you to discuss partnership opportunities, contact us.