Monitor and manage your compliance and meet regulatory requirements, effortlessly.
Every industry has its own regulatory burden with compliance challenges. Monitoring you adherence on a minute-by-minute basis so that you can take action should things go awry and prevent substantial penalties is often impossible given the sheer amount of work involved - until now.
Our Regulatory Compliance & Reporting IIoT and Industry 4.0 solutions can provide you with real-time dashboards and alerts, as well as provide you with the means to take immediate, automated remediation actions based on user-defined parameters. This not only makes real-time monitoring and reporting simple, avoids penalties, but can also create a safer and more environmentally-friendly organization.
Rayven: monitoring + control in one place.
Using our Dynamix all-in-one data science, AI + IIoT platform, we integrate your existing systems and machinery to provide your organization with a real-time single source of truth for individual assets, sites or your entire business' performance.

Our solutions are ready-to-go and quickly deployed on to your Dynamix; providing you with all the asset monitoring and utilization insights that you need today, as well as the ability to develop your platform utilizing its inbuilt, codeless Machine Learning engine, AI Dynamix, to predict, optimize and improve into the future.

Complete, Personal Dashboards
Build dashboards that give you total visibility of your organization and that can even predict future issues - all in real-time.

Real-time alerts & automatic switch-offs
Set thresholds and trigger real-time alerts and automated actions to turn off machinery, stop staff and prevent breaches.

Predictive
Intelligence
Use Machine Learning algorithms and historical data to find the hidden insights that indicate a breach is about to occur and find ways to prevent it.

Automate Compliance Reporting
Create sophisticated reports and then automate their production, selecting parameters, performance and use AI to include suggested optimizations.

Environmental
Monitoring
Real-time monitoring of water, air quality, noise, dust, and much more can enable you to ensure that you're operating within regulatory-defined levels and curfews.

Staff & Asset
Safety
Monitor the adherence to processes, maintenance schedules and asset performance to identify issues before failures and injuries occur.
Our

Regulatory Compliance & Reporting

IIoT and Industry 4.0 solutions can:
Reduce environment breach

-74%
Improve sustainability

+15%
Reduce staff injuries

-14%
Reduce maintenance needs

-7%
Single source of truth from start to finish.
Our Dynamix platform uses real-time data, AI and contextualized data visualizations to give you a real-time single source of truth upon which our Regulatory Compliance & Reporting IIoT and Industry 4.0 solutions operate. giving you the toolkit you need to predict, optimize and scale.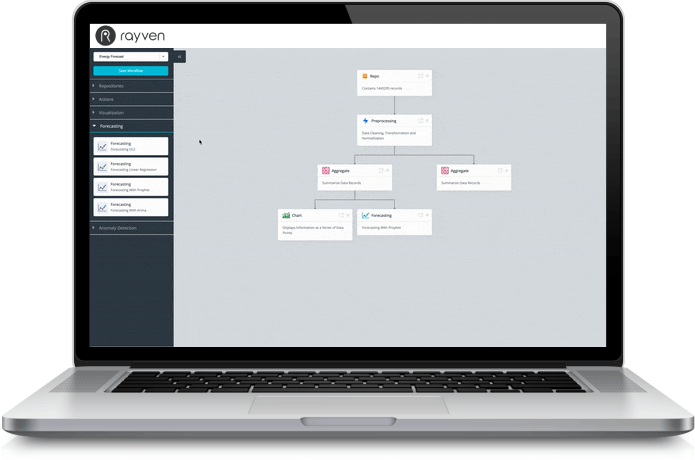 Get a free consultation.
Start in weeks, affordably.
Rayven's ready-to-go, easy-to-use IIoT and Industry 4.0 solutions will give you all the abilities you need, plus much more, in weeks with no hidden-costs. Find out more:
Discover some of Rayven's Regulatory Compliance and Reporting IIoT and Industry 4.0 solutions' case studies:
Waste Water Condition Monitoring, Energy Efficiency & Predictive Maintenance
Find out how our IIoT and Industry 4.0 solution helped reduce energy consumption and equipment downtime via intelligent maintenance schedules at our customer's waste processing centers. Read More.
Power Distribution Transformer Monitoring & Fault Detection
Discover how Rayven helped this utility to better monitor their electricity distribution network, speeding fixes and preventing failures and saving energy using IIoT and Industry 4.0 solutions. Read More.
Greenhouse Management, Monitoring & Yield Optimization
The rapid growth in demand for non-traditional and year-round crops has created opportunities for greenhouse farming, but has put pressure on delivery, costs and product quality. Read More.

Easy-to-use
The Dynamix platform utilizes drag-and-drop builders, dashboards and an intuitive user interface to make your solution simple to configure, use and adjust.

Integrate anything
Highly-flexible, you can adjust and incorporate devices, data flows and other systems at will, so that you have everything that you need in one place. Read more.

Low cost
Get started quickly and affordably, without long development and deployment times. With ready-to-deploy solutions and known annual costs, there are no surprises.

Enterprise security
Security was front of mind when we developed the Dynamix platform. With unique features and proprietary security architecture, you're secure across your solution. Read more.

Future-proofed
The Dynamix platform has all the Machine Learning and AI abilities that you need to incorporate additional use case and create an Industry 4.0 solution over time. Read more.
Amazing support
Our technical and data teams not only help you to quickly configure and implement your solution, but then run it, too with 24 / 7 / 365 support.
Working with industry-leaders to create brilliant, purpose-built data science, AI + IIoT solutions for you:
























Rayven Sales
If you'd like the Rayven sales team to contact you to discuss your project, contact us.
Rayven Partners
If you'd like the Rayven team to contact you to discuss partnership opportunities, contact us.