Increase yields, prevent breakdowns, and find efficiencies,

fast

.

Your operation is unique and made up of its own technologies, processes and people; so IoT solutions designed to improve performance must be able to fit your business as it is without the need to stop lines or disrupt what works.
Rayven's range of combined Production & Yield IIoT and Industry 4.0 solutions are easy and affordable to deploy onto your existing production lines and are guaranteed to integrate with your current machinery + systems; they're simple to use on the floor and in the boardroom; and can provide you with real-time OEE metrics and all-new capabilities to improve yield, throughput, efficiency, sustainabiliy and reduce downtime.
Rayven's IoT solutions enable you to become Industry 4.0-ready and will enhance ROI both fast and affordably.
See how we helped Riverina Fresh transform

.
Rayven: monitoring + control in one place

.
Using our Dynamix all-in-one data, AI + IoT platform, we integrate your existing systems and machinery to provide your organization with a real-time single source of truth for individual assets, sites or your entire business' performance.

Our solutions are ready-to-go and quickly deployed on to your Dynamix; providing you with all the asset monitoring and utilization insights that you need today, as well as the ability to develop your platform utilizing its inbuilt, codeless Machine Learning engine, AI Dynamix, to predict, optimize and improve into the future.

Increased Yields + Throughput
Understand the causes of yield losses and rework so that you can drive the continuous improvement of your production lines.
Increase Efficiency + Reduce Costs
Monitor energy, water and resource use across operations and lines; spot inefficiencies; then model and test optimizations to save costs.

Predict Machinery Failure + Reduce Downtime
Identify machine vibrations, noise and heat to identify future failures and guide fixes. Understand causes of downtime and drive uptime.

Improve Quality + ROA
Quality defects can be isolated by location on a line, providing you with information vital to quality improvement actions.

Improve Sustainability
Get accurate, real-time sustainability metrics and use predictive analytics to plot a pathway to achieving objectives.

Better Staff Engagement
Place data in the hands of your staff and you'll improve engagement in continuous improvement and drive better outcomes.
Driving measurable outcomes from our Production & Yield IIoT and Industry 4.0 solutions:
Lower cost of maintenance
-4%
Productivity across shifts
+4%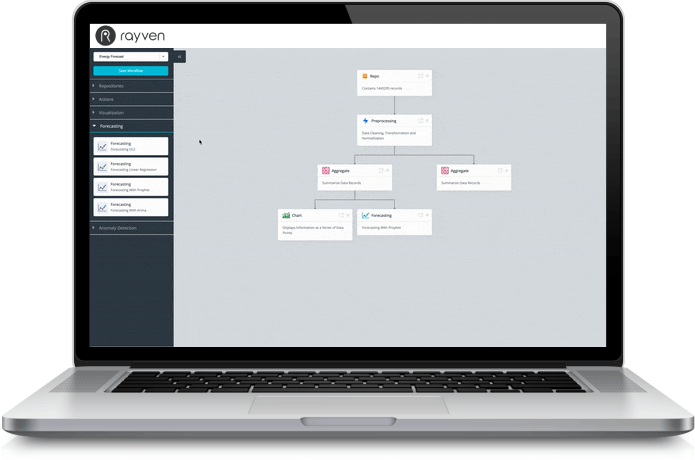 Get a free consultation.
Start in weeks, affordably

.
Rayven's ready-to-go, easy-to-use IIoT and Industry 4.0 solutions will give you all the abilities you need, plus much more, in weeks with no hidden-costs. Find out more:

Featured solution:




Factory One

.
Factory One is a ready-to-deploy solution that helps manufacturers be more transparent, sustainable + productive.
Utilizing our world-leading Dynamix data, AI + IoT platform; we have created a next generation, easy-to-use Industry 4.0 Smart Factory solution that improves yields, sustainability, and efficiency at manufacturing businesses both large and small.

Requiring no new hardware, Factory One creates a real-time single source of truth and features ready-to-deploy modules that improve different aspects of your manufacturing operations, giving you everything you need to solve complex real-time visibility and optimization challenges, fast.
Factory One enables you to:
Increase throughput, quality + yields

.
Lower cost of maintenance

.
Decrease energy + resource usage

.
Reduce unplanned downtime

.
Enhance productivity across shifts

.
Download

our brochure.
Discover what makes Rayven's technology, data science and industrial expertise world-leading and how your business can benefit from it.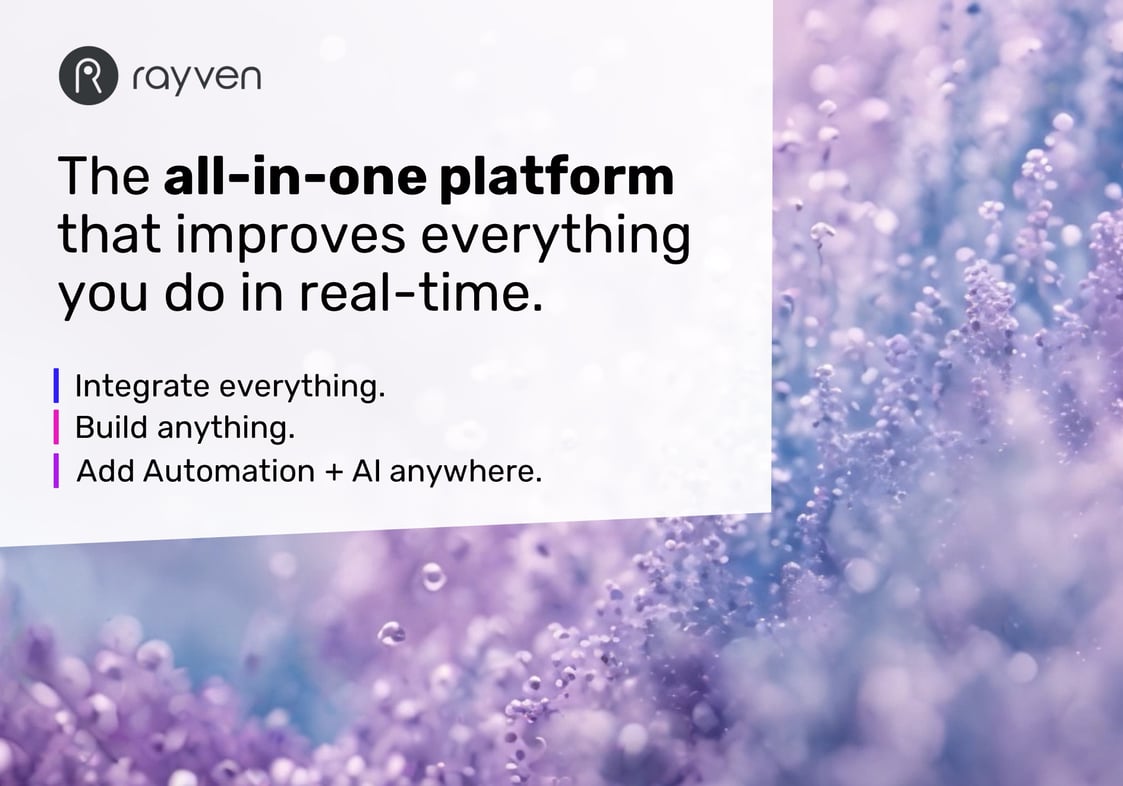 Discover some of Rayven's Production & Yield IIoT and Industry 4.0 solutions' case studies:
Food Production
Efficiency
Our client was concerned about yield losses, product giveaway, and an inability to reach daily production targets. We solved their business problems and improved OEE with an IIoT and Industry 4.0 solution that provides vital information in real-time on key machines in the production process. Read More.

Improving Manufacturing OEE in Food & Beverage
Measuring manufacturing OEE is best practice, but doing it accurately, consistently, and in real-time, can be a significant challenge for many manufacturers - that's where Rayven's Manufacturing solution comes in: OEE Dynamix. Read More.
Real-time OEE & Machine Utilization Monitoring
See how Rayven helped this milk bottling facility meet the highest food handling standards by enabling our client to understand their production and OEE in real-time. Read More.
Cold Storage Monitoring, Compliance & Energy Efficiency
Discover how our IIoT and Industry 4.0 solution enabled our customer to better monitor their cold storage environment, ensuring that their products are stored at the correct temperatures and that they comply with food storage regulations, both during storage and in transport. Read More.
Plastic Recycling Plant Energy Efficiency
Improving the efficiency of a plastics recycling plant through the use of energy efficiency IIoT and Industry 4.0 technology did much more than provide clarity over costs - it enabled savings to be found that made a significant impact on profitability. Read More.
Greenhouse Management, Monitoring & Yield Optimization
The rapid growth in demand for non-traditional crops, as well as ongoing demand for fresh fruit and vegetables year-round, has created opportunities for greenhouse farming, but has also placed pressure on delivery, costs and product quality. Read More.

Robust, industrial-dedicated technology
The only fully-featured, all-in-one platform built for industry that combines data, AI + IoT abilities seamlessly.

Extreme interoperability
Our technology integrates with any machinery, systems, technologies and data stores to effortlessly create a real-time single source of truth.

One platform, multiple use cases
Get real-time monitoring, predictive maintenance, and AI-led productivity solutions – or anything else – in one platform.

Ready-to-deploy or create from scratch
Adopt ready-to-deploy solutions or create them yourself using easy-to-use, codeless interfaces.

Low cost
Works with what you have, pay only for what you use, and is the only Industry 4.0 platform you'll ever need.

Fast-to-deploy, infinitely scalable
Start with one device and a single solution, end with millions across hundreds.

SaaS-based, Edge-ready
Our technology doesn't require IT support, can be deployed anywhere, and supports Edge processing.

Enterprise security as-standard
Dynamix is built with security as a top priority, so our proprietary security architecture ensures data is secure at all points.

End-to-end services + 24/7 support
We can help you with data science and machine learning, solution design, build, deployment, scaling, optimization, plus provide 24 / 7 technical support.
Our Dynamix platform + IoT solutions integrate with anything

,

including: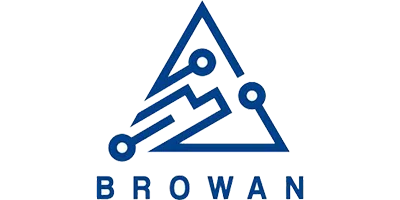 Rayven Sales
If you'd like the Rayven sales team to contact you to discuss your project, contact us.
Rayven Partners
If you'd like the Rayven team to contact you to discuss partnership opportunities, contact us.