Track the performance, utilization and health of your assets, effortlessly.
Whether you work in manufacturing, mining, construction, logistics, or anything else; you face the problem of managing vast equipment and asset fleets.

Most organizations track assets using labor-intensive and inefficient methods that are far from fool-proof, which impacts the bottom-line, reduces productivity and utilization, as well as often leading to unnecessary capital outlays and interventions. Rayven's Asset Monitoring and Utilization IIoT and Industry 4.0 solutions can solve all of your asset monitoring, utilization and maintenance challenges, giving your real-time analytics and predictive insights that allow you to direct effort and investment more effectively - it's a complete, all-in-one solution designed to perfectly match your needs.
Rayven: monitoring + control in one place.
Using our Dynamix all-in-one data science, AI + IIoT platform, we integrate your existing systems and machinery to provide your organization with a real-time single source of truth for individual assets, sites or your entire business' performance.

Our solutions are ready-to-go and quickly deployed on to your Dynamix; providing you with all the asset monitoring and utilization insights that you need today, as well as the ability to develop your platform utilizing its inbuilt, codeless Machine Learning engine, AI Dynamix, to predict, optimize and improve into the future.

Monitor performance & uncover underutilization
Continuous monitoring allows you to examine output and which assets are underutilized (by operator, unit or fleet) so that you can maximize uptime and ROA.

Track your mobile
assets
Know where your assets are in real-time and keep track of them for record-keeping. Continuous monitoring allows you to pin-point any asset's location.

Prevent & predict failures
Continuously monitored asset usage allows you to centrally plan for maintenance instead of waiting for assets to fail and implement predictive maintenance regimes.

Reduce theft & minimize losses
With geofences, you can set alerts to notify you if a device leaves a designated area, allowing you to act on issues as soon as they occur.

Shrink costs & find efficiencies
Adopting our Asset Tracking & Utilization IIoT and Industry 4.0 solutions enables you to prioritize effort and identify the areas that need investment, meaning you don't need to spend where it's not required.

Get complete, real-time dashboards
Build dashboard that give you the complete view of your asset fleets' performance, their utilization and even predict their future output - all in real-time.
Our Asset Monitoring & Utilization IIoT and Industry 4.0 solutions can help you to:
Lower cost of maintenance

-8%
Lower cost of ownership

-9%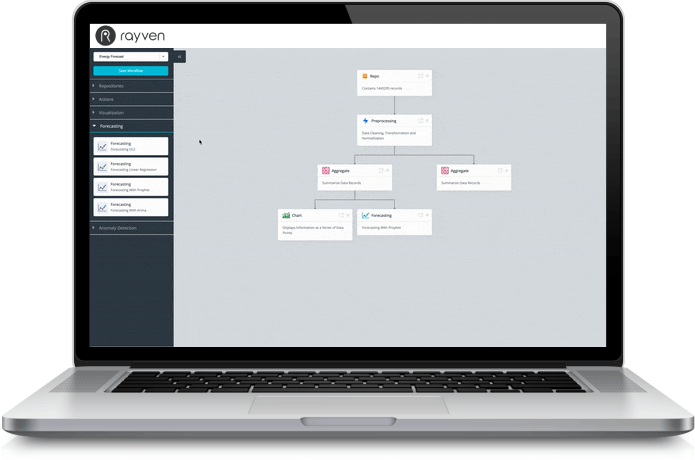 Get a free consultation.
Start in weeks, affordably.
Rayven's ready-to-go, easy-to-use IIoT and Industry 4.0 solutions will give you all the abilities you need, plus much more, in weeks with no hidden-costs. Find out more:
Single source of truth from start to finish.
Our Dynamix platform uses real-time data, AI and contextualized data visualizations to give you a real-time single source of truth upon which our Asset Monitoring & Utilization IIoT and Industry 4.0 solutions operate. giving you the toolkit you need to predict, optimize and scale.
Discover some of Rayven's Asset Monitoring and Utilization IIoT and Industry 4.0 solutions' use cases:
Pump Monitoring & Predictive Maintenance
Pumping stations are an intrinsic part of the sewerage network, raising water from gravity-fed pits to transmit over long distances. They're often located in urban areas, operate regularly and can quickly cause problems when they fail. Read More.
Vehicle Fleet Management & Optimization
Any organization with yellow goods depends on maximizing their utilization, reliability and safety for ultimate business success. When they're always in motion and downtime is the enemy, AI + IoT is the answer to optimizing their use. Read More.
Truck Health, Predictive Maintenance & Compliance Fleet Monitoring
The trucking and logistics industry is under tremendous pressure to improve quality and performance under stringent environmental and safety regulations, whilst also becoming more competitive. Read More.
Improving Supply Chain Performance
If you can better track your supply chain, you can understand points of failure, the reasons for them, or better still - react to issues in real-time before they become a problem. This is what our Supply Chain Performance solution will enable you to do. Read More.
Gas Station Asset Management
Gas stations have lots of assets to manage - not just fuel pumps, but lighting, HVAC, refrigeration and air compressors. Since many run 24 hours a day, 7 days a week, knowing how the equipment is being used and when it might fail brings big benefits. Read More.
Improving Manufacturing OEE in Food & Beverage
Measuring manufacturing OEE is best practice, but doing it accurately, consistently, and in real-time, can be a significant challenge for many manufacturers - that's where Rayven's Manufacturing OEE IoT solution comes in. Read More.
Road Safety & Traffic Barrier Monitoring
To improve accident response times and maintenance, whilst reducing unnecessary truck rolls, this customer implemented a system to monitor the tension along their median wire-rope safety barrier. Read More.
Power Distribution Transformer Monitoring & Fault Detection
Discover how Rayven helped this utility to better monitor their electricity distribution network, speeding fixes and preventing failures. Read More.
COVID-19: Hospital Asset Tracking & Monitoring
Lifesaving hospital assets, like ventilators and infusion pumps, must be mobile - but that mobility also means that devices can be difficult to track and monitor. Read More.

Robust, industrial-dedicated technology
The only fully-featured, all-in-one platform built for industry that combines data science, AI + IIoT abilities seamlessly.

Extreme interoperability
Our technology integrates with any machinery, systems, technologies and data stores to effortlessly create a real-time single source of truth..
One platform, multiple use cases
Get real-time monitoring, predictive maintenance, and AI-led productivity solutions – or anything else – in one platform.

Ready-to-deploy or create from scratch
Adopt ready-to-deploy solutions or create them yourself using easy-to-use, codeless interfaces.

Low cost
Works with what you have, pay only for what you use, and is the only Industry 4.0 platform you'll ever need.

Fast-to-deploy, infinitely scalable
Start with one device and a single solution, end with millions across hundreds.

SaaS-based, Edge-ready
Our technology doesn't require IT support, can be deployed anywhere, and supports Edge processing..

Enterprise security
Dynamix is built with security as a top priority, so our proprietary security architecture ensures data is secure at all points.

End-to-end services + 24/7 support
We can help you with data science and machine learning, solution design, build, deployment, scaling, optimization, plus provide 24 / 7 technical support.
Working with industry-leaders to create brilliant, purpose-built data science, AI + IIoT solutions for you:
























Rayven Sales
If you'd like the Rayven sales team to contact you to discuss your project, contact us.
Rayven Partners
If you'd like the Rayven team to contact you to discuss partnership opportunities, contact us.