All-in-one IIoT and Industry 4.0 HVAC solutions will save you money, reduce energy usage and enhance occupant experience.
Heating, ventilation and air conditioning (HVAC) systems are most organizations' biggest users of electricity and gas, typically representing over 50% of business' energy efficiency improvement potential. Not only that, building air quality greatly impacts employee health and productivity, so HVAC management is changing from a question of temperature control to one of 'healthy buildings'.
AI technology and IIoT-connected HVAC systems have the ability to continuously monitor conditions and system functionality with the help of smart sensors. That data can be used to enhance occupant experience, provide insights into energy consumption that can lead to more efficient environmental control, and also help you to proactively plan and manage asset maintenance - predictive maintenance.
Rayven: HVAC monitoring + control in one place.
Using our Dynamix all-in-one data science, AI + IIoT platform, we integrate your existing systems and machinery to provide your organization with a real-time single source of truth for individual assets, sites or your entire business' performance.

Our solutions are ready-to-go and quickly deployed on to your Dynamix; providing you with all the asset monitoring and utilization insights that you need today, as well as the ability to develop your platform utilizing its inbuilt, codeless Machine Learning engine, AI Dynamix, to predict, optimize and improve into the future.

Energy Efficiency
Understanding how energy is consumed when creating the right conditions for occupants based on changing variables enables you to fine-tune operation and find efficiencies.

Healthy Buildings
Sensors can monitor a wide range of environmental factors, including temperature, humidity, CO₂, etc.; making automatic changes to performance to improve conditions.

Predictive Maintenance
With continuous monitoring of energy consumption, fan speeds, and so on, you have the data you need to identify problems and know when to perform work before failure.

Facility Management
Continuous, real-time data about your PACs by site, by customer, gives you the ability to manage your facilities from a centralised location and provide the service levels that your clients demand.

Shrink costs & find efficiencies
Adopting an IIoT and Industry 4.0 solution will enable you to reduce running costs and prioritize areas requiring investment.

Get complete, real-time dashboards
Build dashboard that give you the complete view of your asset fleets' performance, their utilization and even predict their future output - all in real-time.

Our HVAC IIoT and Industry 4.0 solutions can help you to:
Lower cost of maintenance

-12%
Reduce energy consumption

-15%
Increase asset lifespan

+7%
Single source of truth from start to finish.
Utilize Rayven's HVAC IIoT and Industry 4.0 solutions to unite real-time data and machine learning with data science to make better business decisions when it comes maintenance, emergencies, planning, improvements and much more.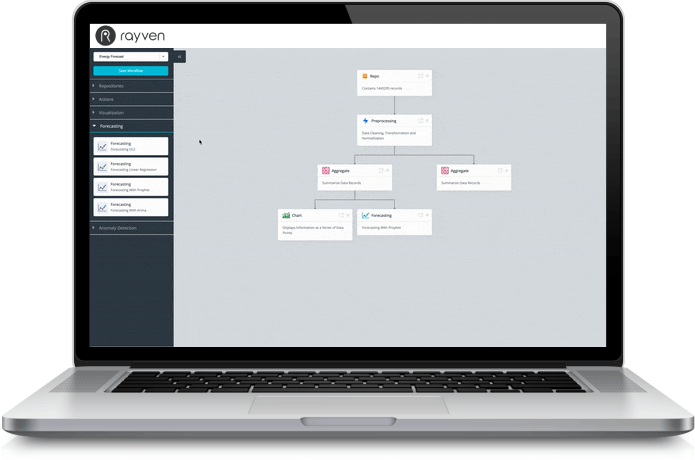 Get a free consultation.
Start in weeks, affordably.
Rayven's ready-to-go, easy-to-use IIoT and Industry 4.0 solutions will give you all the abilities you need, plus much more, in weeks with no hidden-costs. Find out more:
Discover some of Rayven's HVAC Monitoring, Efficiency and Control IIoT and Industry 4.0 solutions' use cases:
Industrial HVAC Predictive Maintenance & Energy Efficiency
Industrial HVAC consumes large amounts of energy and requires continuous management oversight - our IIoT and Industry 4.0 solution makes this easy and enables you to save time and money in the process. Read More.
Greenhouse Management, Monitoring & Yield Optimization
The rapid growth in demand for non-traditional and year-round crops has created opportunities for greenhouse farming, but has put pressure on delivery, costs and product quality. Read More.
Cold Storage Monitoring, Compliance & Energy Efficiency
Discover how IIoT enabled our customer to monitor their cold storage environment, ensuring that their products are stored at the right temperatures and comply with storage regulations. Read More.
Gas Station Asset
Management
Gas stations have lots of assets to manage - including HVAC and refrigeration. Since many run 24 hours a day, 7 days a week, knowing how the equipment is being used and when it might fail brings big benefits. Read More.
Real-time OEE & Machine Utilization Monitoring
See how Rayven helped this milk bottling facility meet the highest food handling standards by enabling our client to understand their production and OEE in real-time. Read More.
Plastic Recycling Plant Energy Efficiency
Improving the efficiency of a plastics recycling plant through the use of energy efficiency data science, AI + IIoT technology did much more than provide clarity over costs - it enabled savings to be found that made a significant impact on profitability. Read More.

Robust, industrial-dedicated technology
The only fully-featured, all-in-one platform built for industry that combines data science, AI + IIoT abilities seamlessly.

Extreme interoperability
Our technology integrates with any machinery, systems, technologies and data stores to effortlessly create a real-time single source of truth..
One platform, multiple use cases
Get real-time monitoring, predictive maintenance, and AI-led productivity solutions – or anything else – in one platform.

Ready-to-deploy or create from scratch
Adopt ready-to-deploy solutions or create them yourself using easy-to-use, codeless interfaces.

Low cost
Works with what you have, pay only for what you use, and is the only Industry 4.0 platform you'll ever need.

Fast-to-deploy, infinitely scalable
Start with one device and a single solution, end with millions across hundreds.

SaaS-based, Edge-ready
Our technology doesn't require IT support, can be deployed anywhere, and supports Edge processing..

Enterprise security
Dynamix is built with security as a top priority, so our proprietary security architecture ensures data is secure at all points.

End-to-end services + 24/7 support
We can help you with data science and machine learning, solution design, build, deployment, scaling, optimization, plus provide 24 / 7 technical support.
Working with industry-leaders to create brilliant, purpose-built data science, AI + IIoT solutions for you:
























Rayven Sales
If you'd like the Rayven sales team to contact you to discuss your project, contact us.
Rayven Partners
If you'd like the Rayven team to contact you to discuss partnership opportunities, contact us.