Monitor and manage your ESG performance, effortlessly.
Different industries have varying HSE compliance challenges, all of which require minute-by-minute monitoring and immediate action should things go awry.
Our Environmental Monitoring, Compliance & Management IIoT and Industry 4.0 solutions solutions can provide you with real-time monitoring and alerts, carry out immediate and automated remediation actions based on programmed parameters, make reporting simple, as well as provide a safer and more environmentally-friendly organization.
Rayven: monitoring + control in one place.
Using our Dynamix all-in-one data science, AI + IIoT platform, we integrate your existing systems and machinery to provide your organization with a real-time single source of truth for individual assets, sites or your entire business' performance.

Our solutions are ready-to-go and quickly deployed on to your Dynamix; providing you with all the asset monitoring and utilization insights that you need today, as well as the ability to develop your platform utilizing its inbuilt, codeless Machine Learning engine, AI Dynamix, to predict, optimize and improve into the future.

Real-time environmental metric monitoring
Accurately monitor ESG performance, in-field metrics, and key TCFD, SDG, Carbon (or other) measures in real-time.

Predict breaches & variable impacts
Track waste and monitor pollutants in real-time. Predict and prevent harm using easy-to-use predictive analytics.

Model changes & discover optimizations.
Model operational changes simply, aggregate risk profiles, and see the effect of optimizations on zero harm goals.

Complete dashboards & reporting
Alleviate the regulatory reporting burden and get an accurate, single source of truth for all your environmental data.

Environmental single source of truth
Unite business-wide environmental data, analyze it using Machine Learning, and enhance EIAs, SIAs + Closure plans.

Transform performance & your business
Create a complete Industry 4.0 solution with automated, AI-led decision-making, alerts and much more - transform your business.
Our Environmental Monitoring, Compliance & Management IIoT and Industry 40 solutions can:
Reduce environment breach

-74%
Improve sustainability

+15%
Reduce staff injuries

-14%
Enhance community relations

+12%
Reduce maintenance needs

-7%
Single source of truth from start to finish.
Our Dynamix platform uses real-time data, AI and contextualized data visualizations to give you a real-time single source of truth upon which our Environmental Monitoring, Compliance & Management IIoT and Industry 4.0 solutions operate, giving you the toolkit you need to predict, optimize and scale.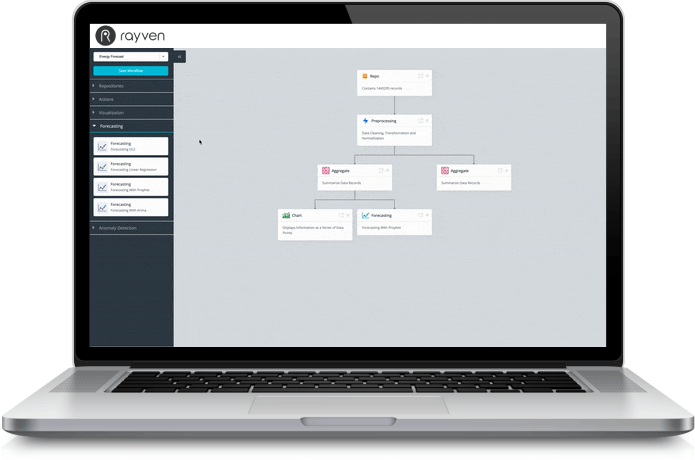 Get a free consultation.
Start in weeks, affordably.
Rayven's ready-to-go, easy-to-use IIoT and Industry 4.0 solutions will give you all the abilities you need, plus much more, in weeks with no hidden-costs. Find out more:
Discover some of Rayven's HSE Compliance Monitoring and Management IIoT and Industry 4.0 solutions' case studies:
Waste Water Condition Monitoring, Energy Efficiency & Predictive Maintenance
Find out how our IIoT and Industry 4.0 solution helped reduce energy consumption and equipment downtime via intelligent maintenance schedules at our customer's waste processing centers. Read More.
Truck Health, Predictive Maintenance & Compliance Fleet Monitoring
The trucking and logistics industry is under tremendous pressure to improve quality and performance under stringent environmental and safety regulations, whilst also becoming more competitive. Read More.
Greenhouse Management, Monitoring & Yield Optimization
The rapid growth in demand for non-traditional and year-round crops has created opportunities for greenhouse farming, but has put pressure on delivery, costs and product quality. Read More.

Robust, industrial-dedicated technology
The only fully-featured, all-in-one platform built for industry that combines data science, AI + IIoT abilities seamlessly.

Extreme interoperability
Our technology integrates with any machinery, systems, technologies and data stores to effortlessly create a real-time single source of truth..
One platform, multiple use cases
Get real-time monitoring, predictive maintenance, and AI-led productivity solutions – or anything else – in one platform.

Ready-to-deploy or create from scratch
Adopt ready-to-deploy solutions or create them yourself using easy-to-use, codeless interfaces.

Low cost
Works with what you have, pay only for what you use, and is the only Industry 4.0 platform you'll ever need.

Fast-to-deploy, infinitely scalable
Start with one device and a single solution, end with millions across hundreds.

SaaS-based, Edge-ready
Our technology doesn't require IT support, can be deployed anywhere, and supports Edge processing..

Enterprise security
Dynamix is built with security as a top priority, so our proprietary security architecture ensures data is secure at all points.

End-to-end services + 24/7 support
We can help you with data science and machine learning, solution design, build, deployment, scaling, optimization, plus provide 24 / 7 technical support.
Working with industry-leaders to create brilliant, purpose-built data science, AI + IIoT solutions for you:
























Rayven Sales
If you'd like the Rayven sales team to contact you to discuss your project, contact us.
Rayven Partners
If you'd like the Rayven team to contact you to discuss partnership opportunities, contact us.